RETROFIT OR NEW BUILD
HOVER ON DOTS to learn MORE.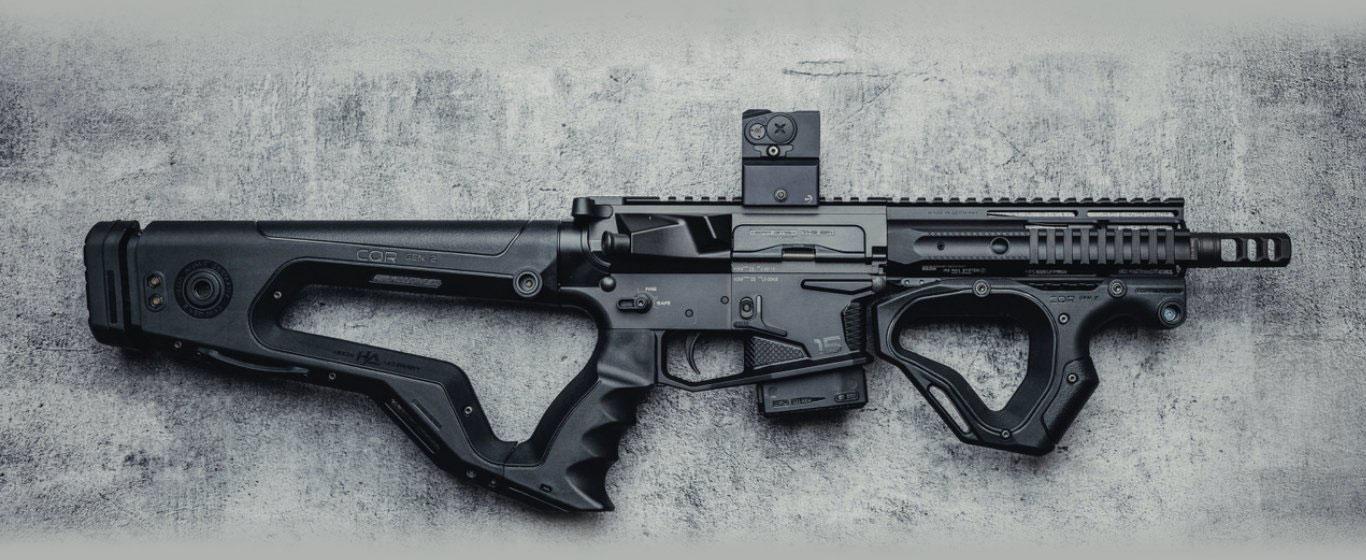 CQR Buttstock
The HERA CQR stock system is made of impact-modified polymer and, in combination with the CQR fore grip, offers the most compact and ergonomic fixed stock system for the AR15/AR10 platform.
Upper Receiver
The Hera Arms Upper Receiver is manufactured on the best equipment possible to ensure a tight fit and that all dimensions are met.
Dust Cover
Our standard AR15 Dust Cover is both lightweight and durable while providing an adjustable ball plunger featuring an easy-to-install polymer pin and adjustable locking ball.
Handguard
Hera handguards are easy to assemble, extremely light and, thanks to Hera's own barrel retaining nut, all HERA handguards are mutually compatible and interchangeable.
Compensator
HERA CC 3-chamber is a sport compensator with additional relief holes to reduce upwards stroke. Thanks to the consistent manufacturing and close cooperation with practitioners and users, it's one of the best compensators on the market.
Selector Switch
Our Multi-Purpose Safety Selector (MPSS) allows an individual configuration of the safety lever. The MPSS is supplied including 5 different safety levers and three caps in three colors which can be combined with one another as required.  
Magazine
10 round magazine for use in semi-automatic firearms of the AR15 / M4 series. Our impact-modified polymer magazines have a stabilized feeder and a mechanical stop so they can't be inserted too far when the lock is open.
CQR Front Grip
In combination with the CQR buttstock, this fore-grip offers one of the most compact and comfortable fixed-stock systems for the AR15/AR10 platform, which is not only perfect for free-hand shooting, but also for mobile use.
"This is the most comfortable stock I have, and I have more than a few."
- 5 Stars Happy Customer
CQR Generation 2 Stocks & Front Grips:
A Must-Have for Firearm Owners Everywhere
Our Gen 2.0 buttstock and front grip are perfect for your mil-spec AR-15 rifle, made with top-of-the-line materials and designed to prioritize ergonomics and functionality.
UNIQUE FIREARM UPGRADES
FOR MORE MODERN, POWERFUL WEAPONRY
"I have to say I really love not only the look of my rifle but the ergonomics is really incredible."
- Matthew Davis
Started and headquartered in Unterfranken, Germany, HERA Arms products are sold in 51 countries around the globe, including the USA. With eyes set on quality, innovation and style we are proud of the products that enhance your weapons, and continue to elevate the industry.

HOLLYWOOD MOVIES

UNIQUE ITEMS



RETAIL COUNTRIES

FOUNDING YEAR
HERA offers German-made, sleek and modern sport and hunting rifle accessories. Enjoy a variety of top-of-the-line firearm parts that will give you that distinct look and feel you deserve in your arsenal.